Swimming Pools
If you are worried about purchasing a country house without an in-ground pool, due to planning and building restrictions, check out this beautiful range of elegant Italian elevated pools, for a good example of how you can achieve something beautiful with just an above-ground pool.

With the difficulties of obtaining planning permission for in-ground pools now in Andalusia, we set out to find an alternative that does not require planning permission.  The Dolce Vita range of pools are from from Italy, designed in true Italian elegance, with beautiful finishings (wood effect and basket weave) and a variety of sizes (see prices below as a rough guide) and options, such as steps, platforms, salt or chlorine versions, swim-against the current, extra lights, pool heating, etc.
The pools are totally temporary, non-permanent structures and it is also possible to purchase a base or platform that can be laid on the ground and adjusted to ensure the pool is on a flat level – no concrete base is needed.
These beautiful pools can be ordered with walk-up steps, or even a platform at pool level.
Below are example photos, and a price list – but for up to date prices, let us know your interest and we can put you in touch with a local supplier.
There are more examples out there, to inspire, so get searching and you will realise that you CAN purchase a country house without a pool and install a stunning above ground alternative.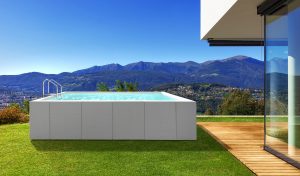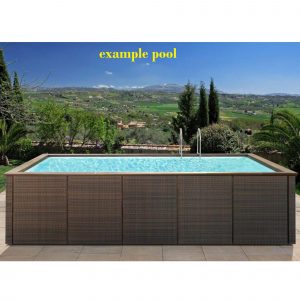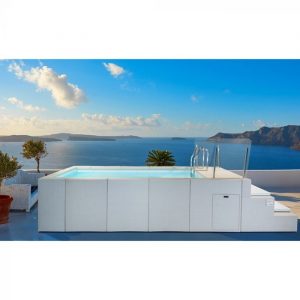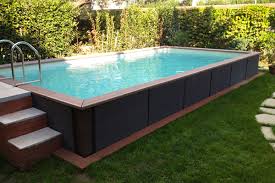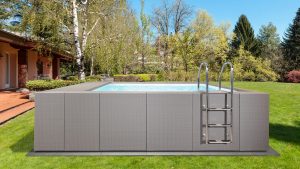 PRICES OF STANDARD SIZED POOLS (rough guide, as prices may rise)
2.5 x 4m pool: 9756 Euros
2,5 x 4m pool Diva with sand filter 10m3/H, with 1 LED light
Total dimensions 2.90 x 5.10m, 12,000L capacity
2.5 x 5m pool: 10,580 Euros
2.5 x 5m pool Diva LTI with sand filter 10m3/H, 1 LED light
Total dimensions 2.90 x 6.10m, 15,000L capacity
3 x 6m pool: 11,210 Euros
3 x 6m pool Diva LTI with sand filter 10m3/H, 1 LED light
Total dimensions 3,40 x 7.10m, 21,600L capacity
4 x 8m pool: 13,640 Euros
4 x 8m pool Diva LTI with sand filter 10m3/H, 2 LED lights, 38,400L capacity
Prices include access ladder and filter system.  VAT must be added at 21%.  Delivery and installation: guide price: 500 Euros.  Choice of colour and finishing. Other sizes and bespoke orders available.  Modular structure means seating or steps up can be incorporated. Extras include swim-against the current system, pool heating and salt water system.