Equestrian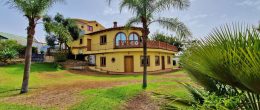 847m2 of build consisting of
Main house: 3 bed, 3 bath, WC – Guest house 2 bed, 2 bath, space for more (main house plus guest house: 379m2); warehouse of 200m2, garage of 80m2, extra barn 55m2;  infinity pool ; 10,227m2 – beautiful location and views
A totally unique complex comprising a spectacular, modern, stylish country house on three levels, a separate very large guest house on one level with roof terrace, and three huge warehouse/garage outbuildings with a stunning 'infinity' pool set, in glorious countryside with stunning views, and a good proportion of flat land.  Ideal for use for a small business needing plenty of warehouse space, or for a tourist related business.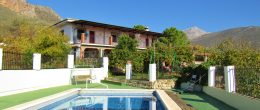 3 houses in one – 6/7 bedrooms – 3 bathrooms – separate 60m2 garage (classed as a house) – 9 x 5m pool – over 19,000m2 of useable land – beautiful views – excellent access
A very large house in a large estate in the mountains to the North of Alcaucin village, half an hour from the beach, with the very best views in the area, from the mountains, right down to the sea – ideal for redevelpment as a country retreat or tourist business.