Mr and Mrs Hart – Canillas de Aceituno (Village)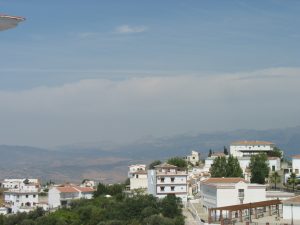 R
etirement provides an opportunity to take stock of where your life is now and what can be waiting for you next! Our long-term love of Spain and its lifestyle inspired us to explore the possibility of buying a property to spend a good proportion of the year, especially the winter months, alternating with our home in Devon where our family are based.
   We gave a great deal of thought to where we would like to be in Spain and the kind of lifestyle we wanted to be a part of. Malaga has the climate and the airport with easy links to the UK. We decided to be less than an hour's drive from there, avoid the coastal commercialisation to the west and embrace the pretty inland villages to the east.
   Having found our search area we realised that, as we would be missing in Devon for months at a time, a large garden in the countryside would be impractical but a traditional village house near the local shops, bars and facilities where we could get to know the locals would suit us fine.
  The next step was to find a property and looking online we found Unspoilt Andalusia! Immediately we were really impressed with the unusually comprehensive property descriptions and photographs which are so helpful when trying to get some idea from a distance. We contacted them to arrange a viewing of a modest townhouse in Canillas de Aceituno and as soon as we entered the village we realised it was a perfect fit for us! The house was exactly as we had imagined it quirky and full of charm – work needed but sound and immediately liveable. Exploring the village we were delighted to find all the shops, banks, bars and restaurants you could need along with a medical centre, schools, municipal swimming pool, public transport, wonderful views and very friendly locals! Some rudimentary Spanish is appreciated and guarantees a smile!!
   Toni and Mikel were wonderful with the mechanics of purchasing a property in Spain and took us through every step of the process often accompanying us to the various offices and bank to set things up and deal with any queries. This made the experience so much less stressful and we recommend them without reservation.
   So here we are, very happy in our home here in Canillas de Aceituno. It has proved to be exactly what we were looking for and the contrast between our two lives in Spain and the UK is providing us with an eventful and fun retirement! We wish you well with your search!