Bermejales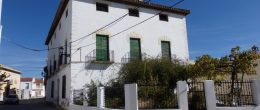 484m2 original townhouse on four floors to renovate – ideal for conversion into a rural bed and breakfast or guest house – estimated 10 ensuite bedrooms possible – 80m2 garden and rear patio, space for a pool  UNDER OFFER
Located in the heart of the small country town of Jayena, close to beautiful Lake Bermejales and at the centre of some of the most spectacular countryside and natural parkland in the whole of Andalusia, this striking town house was once the home of the biggest local landlord in the area, used over many decades for processing and bottling the local olive oil, and now up for sale for an absolute bargain price!
offers around 185,000€
Granada
A beautiful, peaceful and flat plot of 66,000m2 with a 252m2 family house/B&B/ equestrian property with stables, under construction on 2 floors.  Lovely views of the Sierra Nevada. Natural, peaceful environment, close to the agricultural village of Cacin, Western Granada.