Print Details
AX1262 – Casa Roberto, Rubite, Canillas de Aceituno area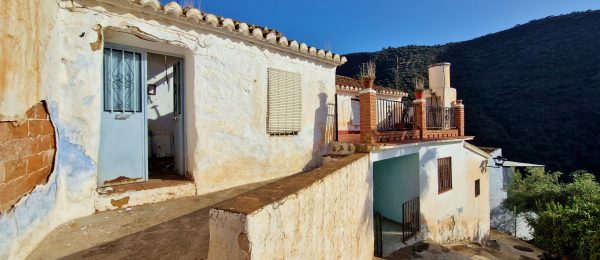 49,000€
Address:

not specified

Zip / Town:

Rubite, Canillas de Aceituno

Province:

Malaga
Ref. No.:

AX1262

Bedrooms:

2 (could be up to 4)

Land or garden:

30m2 plus two lower plots within 5 min. walk
Description
2 bedrooms – 1 bathroom – light renovation – second house requiring total/structural renovation – garden opposite house – extra land included below the village (short walk) totalling 3800m2
A fascinating house in the rural hamlet of Rubite, set in the hills between Velez-Malaga and Canillas de Aceituno, in need of renovation, with land.
Casa Roberto is a project in two parts.
The main house has 2 bedrooms and 1 bathroom in reasonable condition, needing renovation, but nothing structural. It consists of a covered porch entrance of around 3 x 2m leading into a living room (4 x 3m) in traditional style with original ceilings with beams and tiled floors. At the far end is bedroom 1 (4 x 3m) with a door into an ensuite bathroom (3 x 2m) which is fully connected to the drains.
Stairs from the entrance/living room lead up to the upstairs bedroom (4 x 3m) which has access to a look-out terrace of 5 x 2, overlooking the surrounding hills and countryside. The rear wall of this room joins to the upstairs section of the second house.
Adjoining the main house is a second building, accessed via a small patio (3 x 2m). This leads into a large room (around 5 x 3m) which has a smaller room to the rear and steps leading to two further rooms covering an area of approximately 6 x 3m. One of the walls in these upper rooms is shared with the upstairs bedroom in the main house. This second house is in a very poor state, with collapsing roofs and in need of rebuilding.
It would be perfectly possible to join the two houses together, or rebuild the more delapidated house as a separate living unit. Alternatively, the second house could be removed and the space used for a large walled patio garden.
In front of the buildings, on the other side of the village path, is a piece of land of around 30m2, with a small wood shed or animal shed. This little plot would make an ideal little garden and it could even hold a little pool. The views are delightful and it is a sunny spot.
A 5 minute walk down an ancient country path takes us out of the hamlet and into the countryside, to two plots, both sold with the property and included in the price. The first plot is around 800m2 and has a large water deposit that could be filled from the river below, to use for a vegetable plot. The second plot, further down the hill, is 3000m2, with trees and scrub. Both these plots are fairly sloping, but have long ago been landscaped into terraces cascading down the hillside.
A very rustic, rural little house, lost in a bygone age, just waiting to be loved and cared for again!
Property Summary
Main house: 86m2
Lower house: 71m2 in need of rebuilding
Plot opposite: around 30m2+
Two lower plots of around 800m2 and 3000m2
Rural hamlet location
Council tax/IBI: tbc
Energy rating: processing