Print Details
AQ350 – Cortijo Villalón, Valle de Abdalajis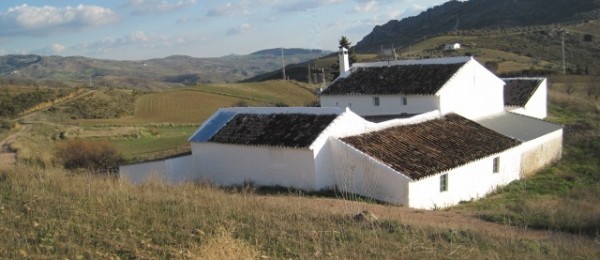 249,000€
Address:

Valle de Abdalajis

Zip / Town:

Antequera

Province:

Malaga
Ref. No.:

AQ350

Bedrooms:

4 or many more

Land or garden:

25,000m2
Description
Over 300m2 of old cortijo, structurally sound, needing updating and renovating –  140,000m2 land

This is what I can only describe as a thoroughbred of cortijos, the real thing, a jewel of a place set in a simply perfect location – lucky the person who manages to acquire this wonderful piece of pure Andalusian culture and history!!
When I saw this place I was awe-struck!  This is it!  The classic country cortijo, surrounded on all sides by fields and hill, with distant mountains and total, magical, Southern charm!!!  For anyone who wants the real thing, and a chance to carefully and lovingly restore a true piece of history, and have lots of land into the bargin, this is your property!
Set on 25000m2 (approx.) of land, (up to 140,000m2 is available to buy) consisting of cereal and vegetable crop fields and scrub, undulating hills, with wonderful views all around, this old farmhouse has a walled patio courtyard with original flagstone floors, which is surrounded on one side by the outer wall to the car parking area, on two further sides by huge barns, and on the remaining side by the two storey house itself.  The house is divided into two halves but they could easily become one house.
The structure is on the whole sound, the rooms small with small windows, which is typical, but the whole thing could be opened out and redesigned as required, with patio doors from the house, and the two barns (which could be guest accommodation) giving both onto the central courtyard,and, from the other sides, onto the land.
The house has beams galore, old floors, fireplaces and so much more!  It is a basic habitable at the moment, so for anyone wishing to move in and gradually restore this simply incredible place it is perfect.  There is a very small 20m2 store room attached to the very back, which belongs to a neighbour, but this is approached from a different entrance and is not often used and there may be a possibility of buying it.
A place to change a lifestyle, to take on animals and horses, to enjoy the outdoors, to grow crops, to take in holiday makers and guests and offer activities such as walking (walk to the lakes at El Chorro!!) horse riding, quad biking, cycling, etc.
The property is approached by an extremely good, all year round track, perfectly accessible with an ordinary car.  The track is just 1.1Kms long, and from the beginning of the track to the main A343 road between Antequera and Valle de Abdalajis is an asphalted country lane of just 1.3Km.  From the end of the lane, Abdalajis village is around 3Kms, Alora is 22km, Antequera 19Kms and Malaga 54Km.
Contact me today – I fell in love instantly with this cortijo, this is what Andalusia is really about, and I am determined to match it to the right person!!
Mains water and electricity is connected.  Separate garage building.  There is also well water.  The house is fully registered.