Print Details
AX1207 – Casa Los Enanos, country house near Canillas de Aceituno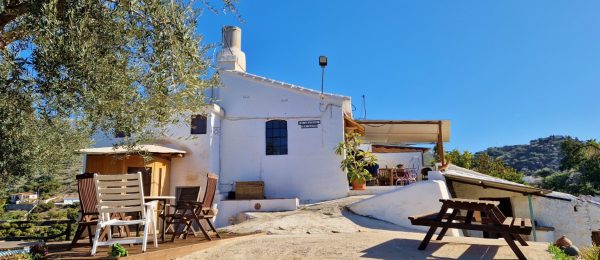 187,000€
Address:

not specified

Zip / Town:

Canillas de Aceituno

Province:

Malaga
Ref. No.:

AX1207

Bedrooms:

2-3

Land or garden:

2760m2
Description
2/3 bedrooms – 1 bathroom – possibility of 3rd bathroom – rustic features – outbuildings – lower section of house to renovate of around 33m2 – pool – jacuzzi – beautiful country location near river
A very pretty, 2/3 bedroom country house in a rural hamlet in the countryside in the municipality of Canillas de Aceituno, with pool and built-in jacuzzi.
Location
This delightful, rustic country house is located in a sleepy rural hamlet, or a little cluster of houses, in a lush river valley to the South West of Canillas de Aceituno. The hamlet is 15 minutes from Velez-Malaga, 10 minutes from Viñuela and 20 minutes from the coast at Torre del Mar. The beautiful mountain village of Canillas de Aceituno, with its excellent restaurants and walks is around 10 minutes. The position is beautiful, peaceful, bucholic and inspirational!
This house is end of terrace, and is very private. It has a private gated entrance and driveway on a printed concrete drive. It is surrounded by beautiful, undulating land, with a line of mature carob trees that are over 100 years old, and plenty of other trees and plants, including a variety of fruit trees. The plot slopes down to a river bed below, with a lower level with a pool (3.5 x 4m) with decking around it, and a very pretty pond, fed by an ancient "acequia" or irrigation channel, bringing irrigation water to the plot. There is space for growing vegetables and more fruit trees if anyone should wish to try their hand at a bit of agriculture! The current owners keep a few chickens, as it is the perfect place for a few animals.
The buildings are made up of the main house, which has a lower part for renovation, and an outhouse. The outhouse could be restored and perhaps become a summer house or guest casita, or it could be removed to make a good sized flat garden area, depending on individual preferences. The lower part of the main house has excellent potential as a separate apartment, or a lower floor level with extra rooms.
Main house
The upper part (south wing) is habitable and comfortable, and the lower part (north facing) is currently three large store rooms.
The upper part has two terrace areas, one with wooden terrace decking and a built-in jacuzzi, which works using a log burner just below it and is highly efficient. The owners say it is magical to enjoy the warm, bubbling waters, whilst contemplating the countryside around and the magnificent mountains in the distance. The other terrace area is by the front door of the main house, South facing, and consists of a concrete area of around 11 x 3 metres, with a built-in pizza oven in the far corner and a lovely area to enjoy outside eating, relaxing and snoozing.
The front door from this terrace leads into the kitchen, (3.5 x 3m). It has an old fashioned feel about it which in this particular house, works very well, with original tiles dating from around sixty years ago, and still in remarkably good condition. The walls are amazingly thick, as this is an original, stone-built building, and the windows are individual and charming, all with lovely views. An opening to the right leads into a delightful living room (4.5 x 3m), with a wood burner, and some lovely windows including a large floor to ceiling picture window, set into the thick walls.
From the living room, traditional double doors in the rear wall lead into a room currently set up as a third bedroom (3.5 x 3m), but given that both bedrooms lead off either side, this room would work well as an inner hall or a reading room or study, with bedrooms to left and right. To the left, is the smaller bedroom (3.5 x 2.2m) with the bathroom beyond it (3.5 x 1.5m), and to the right is the double bedroom (4 x 3.5m). There is an opening from the double bedroom through to a store room which is next to the living room (see floorplan) of around 3x3m which could easily be converted into a second bathroom, perhaps with a door both to the living room and to the double bedroom.
The lower part of the house (north wing) is around the other side of the building on the north side and consists of three large rooms with two entrances. This part of the house is unrenovated and takes up the entire length and half the depth of the main house, but on a lower level, by the entrance track. The total space here is around 11 x 3.5m, including the thick walls and could potentially be further bedrooms, perhaps with a staircase leading down, or a separate guest apartment. There is parking for around 3 cars or even a camper van on this side and a small garden and terrace area with wonderful views across the countryside.
This delightful property has mains electricity, mains water and irrigation water (irrigation water costs 35€ per year and entitles the owners to 12 hours every Tuesday). The house is registered and on land classified as urban, as it is a part of an ancient, residential hamlet. Ideal as a holiday home in true, unspoilt Andalusia.
Property Summary
– Plot total size: 2760m2
– Total build size including outbuildings: 194m2
– House: 127m2 approx.
– Outbuidlings: 67m2 approx.
– Pool and jacuzzi
– Mains water and irrigation water
– Mains electricity
– Council tax (IBI): tbc
– Energy rating: processing
Important: click on the photos below to view full images: