Print Details
AX1193 – Casa Leonor, Rio Bermuza (Canillas de Aceituno)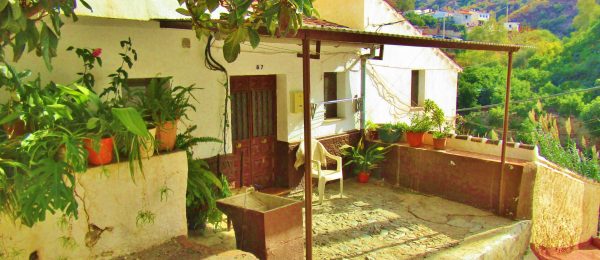 74,000€
Address:

not specified

Zip / Town:

Canillas de Aceituno

Province:

Malaga
Ref. No.:

AX1193

Bedrooms:

3

Land or garden:

45m2
Description
2-3 bedrooms 1 bathroom, 2nd and 3rd bathrooms possible, studio room or office – small garden, pretty front terrace
A traditional style country house in the peaceful and rural hamlet of Rio Bermuza, in good overall condition and habitable, but with potential to become very special with very little work.
Río Bermuza is a hamlet that follows the meandering course of the River Bermuza as it winds its way down from the mountains above Canillas de Aceituno to the Velez-Malaga valley below. Situated within this small community of country houses, Casa Leonor is typical of the houses here, and much improved and developed since it was originally built in 1948.
The house is built on three levels. The lowest level, and level with the road, consists of two store rooms, each with its own door to the street, with a total size of 30m2. These could be used for storage, or perhaps converted into a small studio apartment.
The second level, accessed via a little side road, heading up the hill, has a delightful front terrace (covered) with an original flagstone floor and a perfect place to sit and contemplate the comings and goings of the locals and enjoy the outside. This terrace (around 5 x 3m), leads through the front door into a front room or dining room (3 x 3.5m). To the left a doorway leads into the kitchen (3 x 2m) which is old fashioned but functioning. From the kitchen a door to one side leads into a bathroom (3 x 2m) with large walk-in shower. Two other doors lead from the front room. The first leads to a bedroom (3 x 3m) with a window over the views, and the second leads into a second living room (4 x 3.5m – in the photos, the room with the two beds and yellow bedspreads), currently used as an extra bedroom. There is a window to the side street from here. And this room has a door into the second bedroom (4.5 x 3m) with sloping ceiling and beams and a window over the view. Both bedrooms have a couple of steps down.
Outside again, on the highest end of the house, is a small garden, once a grape-drying bed to make raisins, around 30m2. This area, if fenced, could become a lovely little private oasis, full of plants, and maybe a fountain, etc. From here, steps lead up to another room (15m2), on the top level, with a very good view over the countryside. This room could be an extra bedroom, perhaps adding a WC or small ensuite, or it could be used as a studio or office, massage room etc.
It would be easy to add two or three steps joining the mid level covered terrace to the garden level just above.
This delightful little house still has some of its original character. It is an affordable country home in true Andalusia, where one would meet and become a part of the local community easily and quickly, and yet, be only 20 minutes from the coast. The nearest shops are in Velez-Malaga (15 mins), Viñuela village (10 mins) or Canillas de Aceituno (10 mins).
Property Summary
– House 106m2 on a footprint of 85m2
– House has deeds and is correct on the catastro
– Connected to mains water and electricity, as well as mains draingage
– Small garden (estimated size around 30m2) and covered terrace
– Council tax (IBI): 122€ p.a.
– Energy certificate: processing