Print Details
AX1093 – Casa El Olivar – country house to restore, Iznate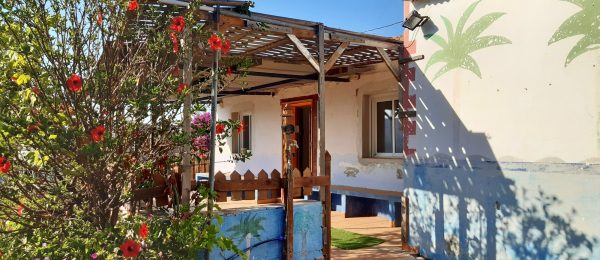 98,000€
Address:

not specified

Zip / Town:

Iznate

Province:

Malaga
Ref. No.:

AX1093

Bedrooms:

2

Land or garden:

2582m2
Description
2 bedrooms – 1 bathroom – kitchen/living room area – front terrace with stunning views – land with raisin-drying beds and a productive olive grove – barn adjoining house – walk to village
An unassuming county house that could be made amazing! On the edge of the village of Iznate, with land, views, and just 15 minutes from the coast.
Location
The village of Iznate (with various shops, bars and restaurants and excellent sport facilities) is located about 15 minutes inland from the coast, and 30 minutes from Malaga. This country house is located just outside the village and it is possible to walk there, and to the local bars.
Access is via a short track (partly concreted) from the village.
The land
Consisting of a plot of 2582m2, the land consists of the area where the house and garden is located, the raisin-drying beds just below, and the olive grove, stretching out in a long strip.
The house
At present the house is surrounded by a parking area, terrace, barbecue area, and an area of garden that was once well tended, now to be restored, with a number of mature flowering plants and bushes. There are two small sheds too.
The barbecue area is a large, open area to one side of the house with a sink and long worktop area. There is a large covered terrace with beautiful views (8 x 4m) and double doors leading into the living room (5.5 x 4m) with corner woodburner fireplace. This room could be made into an open plan kitchen/dining/living room, or, alternatively, a kitchen could be made in the adjoining barn (5 x 7m approx), leaving further barn space for any other use required. There is a door from the living room into the barn already.
To the left of the living room is bedroom 1 (4 x 2.5m) and to the rear is a short corridor leading to bedroom 2 (4 x 3m plus 3 x 2m) and the bathroom (3 x 2m) with shower.
This house needs 'finishing', and some improvements to inside and outside are required. The barn roof is corrugated iron at the moment.
The views from this property are very lovely, looking over a distant line of mountains. There is one close neighbour, but the neighbouring house can easily be obscured by a wall or flower trellises.
Property summary
– House and barn: 128m2
– Land: 2582m2 with olive grove
– Beautiful views
– Orientation: West
– Easy access to village
– Council tax/IBI: tbc
– Energy rating: processing