Print Details
AX950 – Casa La Botica, Canillas de Aceituno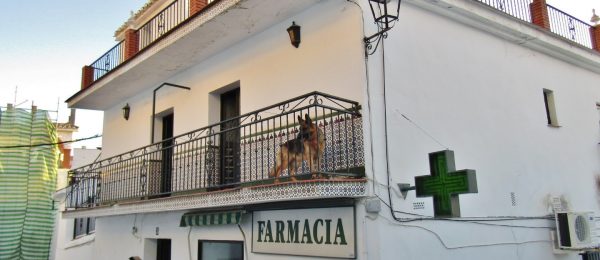 95000€
Address:

not specified

Zip / Town:

Canillas de Aceituno

Province:

Málaga
Ref. No.:

AX950

Bedrooms:

5-7

Land or garden:

n/a
Description
5-7 bedrooms – 2 bathroom – Large house with excellent B&B potential – close to everything in the village – large roof terrace with views

A fascinating property that used to be the village pharmacy or "Botica" (Apothecary), originally housing two large families, as was typical in these old Andalusian villages. UNDER OFFER
The inside offers plenty of space and offers a wealth of renovation possibilities. The property does need some general renovation, such as re-painting replacement of tiles and alteration to layout. If this were to be transformed into a B&B some walls could be moved around and new bathrooms created.
Location
La Botica is on a side street next to the the town hall. It is a few moments away from the centre of the village which has plenty of shops, bars and a couple of very well renouned restaurants. There is also a municipal swimming pool in the village, with some of the nicest views a public swimming pool could possibly have.
The house itself has a small and very tranquil little square to the front and lovely views over the village, further up the mountain.
The Property
The property opens into a large room, currently full of shelving where the shop area of the pharmacy once was (7x3m). Through an open arch is a large room with kitchen to the left (4x3m) and a very large living room to the right (6x3m). Beyond the kitchen is a bedroom (3x3m) and next to it a bathroom (3x2m).
To the left of the front entrance is a door with stairs leading up to the second floor leading into another large room/hall (5x3m). From this room there is a bedroom in front of the stairs (3x3m) with an Andalusian balcony and next to it, is an open doorway into a kitchen (2x3m). Towards the right of the hall is a larger bedroom (3x4m) with another Andalusian balcony with an ensuite bathroom (3x2m).
Next to the entrance to the hall is a bedroom (3x3m) that leads into another bedroom (3x3m), both connected with a single Andalusian balcony overlooking the square below. The first bedroom has another set of stairs leading up to a small room (3x3m) that opens out onto the terrace that has two sections, the larger area (10x4m) and a smaller area on a higher level (5,5×2,5m).
Renovation Potential:
There are a few things that would need work on in the property. Starting on the ground floor, the shelving could be removed and perhaps a wall could be erected in the livingroom to create an extra bedroom if needed. The bathroom and kitchen need renewing and both wall and floor tiles could be replaced.
On the second floor, apart from painting, tiles etc, the walls could be moved, eliminating the kitchen to create ensuite bathrooms, plus an extra door for the final bedroom, giving each bedroom its own independant entrance.
On the roof terrace, the small room could be converted into an indoor sitting area, perhaps with bigger windows. There is a section of roof that is not converted into terrace, this section could potentially be converted into a roof pool. There is also potential to create an additional floor, subject to planning permission.
Property Summary
– 315 m2 total house build
– 60m2 terrace
– Walk away from the centre and amenities
– Large roof terrace
– Excellent B&B potential
– Very peaceful location
– Mountain and sea views from terrace
– Energy rating: pending
Click on the photos below to view full images: