Print Details
AX871 – Casa Jazmin, Velez-Malaga village house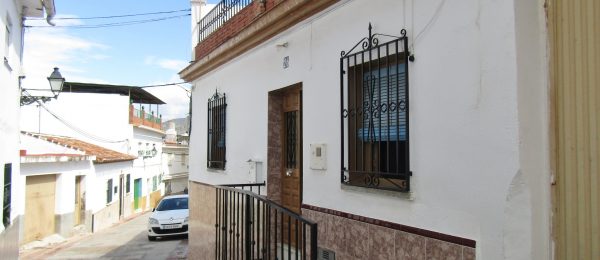 75,000€
Address:

not specified

Zip / Town:

Velez-Malaga

Province:

Malaga
Ref. No.:

AX871

Bedrooms:

2

Land or garden:

10m2 patio, 30m2 terrace
Description
2 bedrooms – 1 bathroom – space for 2nd ground floor bathroom – patio – huge roof terrace, part of which is covered
A traditional village house in good condition on one floor, with a rear patio and steps to a large roof terrace, with covered area that could be further rooms, and lovely views over the mountains to the North and the church of Santa Maria.
Location:
Situated in the historic centre of this ancient, lively town, and only 5 minutes' drive from the coast, this interesting and spacious village house is located in a very quiet street, just a few minutes walk from all facilities.
House:
This 93m2 village house consists of a living room (4 x 3m) with window over the street, and a bedroom to the left, (4 x 3m) also with window to the street.  Beyond, to the left of a 1 x 3m corridor, is bedroom 2 (3 x 2.75m) and to the right the bathroom with shower (2.5 x 1.2m).
At the end of the corridor is the kitchen/dining room area (6 x 2.5m) divided by a partition wall to separate the kitchen area from the dining area.  A door from the dining area has a back door leading out onto the ground floor patio (3.5 x 3m including the stairs), and a laundry room with shower unit (2.75 x 2m – could be second bathroom).
The stairs to the rear of the patio lead up to the upper floor.  This is divided into two parts.  The first is the covered area, covered with a temporary, corrugated roof.  This area is 7.5 x 4m, plus a built store area of 3 x 2m.  The second area is the tiled roof terrace, of 6.5 x 3.25m.  From the upper level, there is a fabulous view up to the beautiful Santa Maria church, and from the open terrace, views to the North across the hills and mountains beyond the town.  
The upper level could be opened out completely to make one extremely large roof terrace, or, the covered area could be improved, with new walls and a tiled roof, to make extra internal space.
Property Summary:
– 93m2 with rear patio and large roof terrace and views
– Potentially up to 50m2 roof terracing
– Quality tiling and windows
– Quiet location
– Council tax: tba
– Energy rating: tba