Print Details
AX849 – Casa Emilio, Riogordo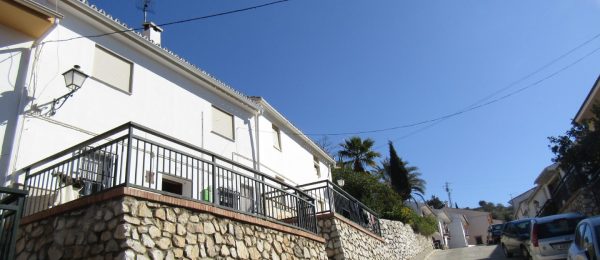 119,000€
Address:

not specified

Zip / Town:

Riogordo

Province:

Riogordo, Malaga
Ref. No.:

AX849

Bedrooms:

4

Land or garden:

Patio (15m2) and two terraces (34m2)
Description
4 bedrooms – 3 bathrooms – patio and two terraces – divided into two separate living areas
A spacious village house in a beautiful street with delightful front terrace and great views, plus inner patio and upper terrace, on two floors
This interesting village house is perfect for anyone wishing to have two living units in one, perhaps one for rental and the other for private use, or for two families.  Equally, both units can be joined into one.
Ground floor Unit (59m2 plus patio)
From the pretty front terrace (6 x 3m) with its lovely views, raised above the street level, the front door leads into the living room (4 x 3m).  To the left is Bedroom 1 (3.5 x 3m) with a window to the street, plus a modern, comfortable en-suite bathroom (3 x 1.5m) with double walk-in shower.
From the living room, ahead is the kitchen (3.25 x 2m) and to the right of the kitchen is the small second bedroom (2.5 x 2m).  This bedroom could be incorporated into the kitchen, as the wall is just a partition wall. Removing this would result in a much larger kitchen/dining room (around 5.5 x 2.5m).
Beyond the kitchen is a covered patio room of 3.5 x 2.25m  (the upstairs terrace is above it).  This room could easily become a more spacious second bedroom, with double patio doors out to the lower patio.  At present it has a single door out to the patio, and to the far end of this room is a store room (2 x 1m) and next door, a second bathroom (2 x 2m).
To the left of this room the door leads out to the lower patio (5 x 3m including steps up with under stairs store area).  At the moment this is just an outside area bringing light to the rear rooms of the house, but it could be made very beautiful, perhaps a mini tropical garden.   The steps lead up to the upper terrace (4 x 3) which has partial views over the village and mountains.  By lowering the wall around this terrace, or replacing it with a more open structure, the views would be more evident.
Upstairs Unit (54m2 plus patio)
From the front terrace, a door to the side leads to stairs up to the upper level unit.
The top of the stairs leads into a kitchen/dining living area, with corner fireplace (4 x 4m).  This area is more traditional in style than the more modern downstairs unit.  A door ahead leads to bedroom 1 (3 x 3.5m) with window over the street and a built-in wardrobe.  Beyond, to the rear of the living area, is bedroom 2 to the left (3 x 2.5m) and the bathroom to the right (2 x 2m).  And a short corridor area between the two leads out onto a corridor balcony, on the same level as the terrace, but separated from it at present by a railing.  At the end of the balcony is a small store room.
This lovely house has great potential for further modernisation and a better layout. It faces South and is light and bright throughout.
Property Summary:
– 2 separate living units, one  on each floor
– 113m2 footprint
– 113m2 total build size
– Council tax (IBI): 81€ ground floor, 76€ top floor (annual rate)
– Short walk from town centre and all facilities
– Energy rating: processing