Print Details
AX843 – Finca Carina rural retreat, Nerja/Frigiliana area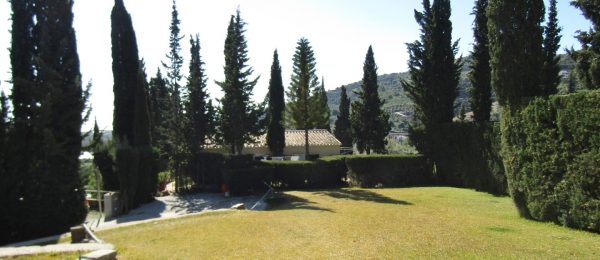 1,350,000€
Address:

not specified

Zip / Town:

Nerja

Province:

Malaga
Ref. No.:

AX843

Bedrooms:

9

Land or garden:

9500m2
Description
Unique complex on 9500m2 plot – 6 x 1 bed/2 bed apartments (around 500m2 of build) – 60m2 pool – fruit trees – sea and country views
A unique and beautiful complex consisting of a large plot of usable land planted with a huge variety of trees, gardens, and lawned areas, with 6 cottage apartments and a large store room, some in perfect condition, others for light renovation- a perfect business investment.
Situated in a lush, tropical valley between Nerja and Frigiliana, (around 3.5Kms from Frigiliana) with beautiful views over the Mediterranean Sea and a good, concreted country lane to reach it, this is a quite unique opportunity to take over, improve and succeed in the buoyant market of rural tourism.  This stunning property, on 9500m2 of land, has everything one needs to develop a tourist retreat, with rental cottages for general tourism, activities such as yoga, recuperation centre, centre for medical or aesthetic treatments.. the sky is the limit!
The Plot
Gates lead into the private estate, with a large parking area and a central mini forest of palm trees!  Here is ample space for client parking, within easy walking reach of all buildings and areas on the estate.
Walking up the gentle hill, we reach the pool garden area, with lawn, terraced areas, and a stunning 60m2 pool, with stunning views over the sea.  From here, little paths lead up, through hedged areas, green lawns and wilder areas, to the various buildings in the complex.  The land is planted with a huge variety of fruit trees, tropical fruit trees, including a productive mango orchard, palm trees and many other species, a visual delight for any visitor, all with the dramatic backdrop of the sea to the South and the mountains to the North and East.  There is also a well established organic kitchen garden for home grown vegetables.
The buildings
1. Casa La Cuadra
With a beautiful covered terrace overlooking lawns and views, this detached house has a large open plan living/dining room with beautiful kitchen (6 x 4m); to the left, steps to bedroom 1 (5 x 5m) with ensuite WC, to the right, a short passage to bedroom 2 (3 x 2.5m) with door out to terrace, and a lovely bathroom in turquoise tiling (4 x 2m). Stairs lead up to a high mezzanine level living room or extra sleeping area (4 x 2.5m). La Cuadra also has a wonderful roof terrace with beautiful country, mountain and sea views.
2. Store room/stables (6 x 5m)
Just a few paces away from Casa La Cuadra is a large outbuilding which is used as a very useful store room, and has a shower room, plus stables for 3 or 4 horses. Potential for development as another accommodation unit.  Paths lead beyond here to the field, the organic vegetable garden and mango tree plantation, which will bring in extra income.
3. Casa Carina
On one single level, Casa Carina consists of living room, kitchen, 1 bedroom, 1 bathroom and separate WC.  Casa Carina has a beautiful cane-covered terrace facing South and East. (sizes of Casa Carina tba).
4. Casa La Bodega
On one level, Casa La Bodega has a living room with dining area and one whole wall of large windows overlooking the gardens, plus wood burner (6 x 4m). A breakfast bar and arch separate this area from the fully fitted kitchen (3 x 2m).  To the left is the bedroom (3.5 x 3m) a dressing area and double glass doors to a pretty balcony, plus delightful ensuite bathroom with a luxury sunken bath (3.5 x 3m).  Steps to the side lead to a roof terrace with wonderful views (8.5 x 6m).
5. Casa El Lagar
Located below Casa La Bodega, accessed on a lower ground level, this house consists of a living room (6 x 4m), kitchen (3 x 2.5m), to the left, a bathroom (2.5 x 2m) with shower, and steps up to a semi-mezzanine level bedroom (3 x 2.75m).  The house has pretty stone detail and from the kitchen, a glass door leads to a small, but very private terrace area.
6. Casa de Abajo
Located near the car parking area and close to a number of covered store areas is a sixth little apartment.  It consists of living room area (4 x 2.25m) with wood burner, with a kitchen to the right (2.25 x 2m), a 1 small bedroom off the living room area (2.5 x 2.5m) with a lovely bathroom beyond (2.5 x 2m), plus a large terrace area covered at present with a beautiful flowering creeper plant.
Adjoining Casa de Abajo is a large store room where the pool filter and equipment is located, plus storage space.
7. Lodge House (5 x 4m)
At the very entrance to the property is a small lodge house, consisting of a bedroom with kitchenette and a shower room, with beam details.
This unusual property is being offered at a good price, and represents an excellent opportunity to set up what would without doubt be a highly successful and lucrative tourism business. Businesses that would work well here are: general tourism and specialist activity tourism, yoga retreat, recuperation or private specialist medical or treatment retreat, equestrian centre, etc.  The location is very popular, between the two extremely successful towns of Nerja and Frigiliana.
Property Summary:
– 9500m2 plot with stunning sea and mountain views
– Very private and not overlooked
– 6 separate living units, all very beautiful and different
– Around 500m2 of buildings
– Amazing, much sought-after location, popular with tourists
– Organic mango orchard and vegetable garden
– Mains water plus well water
– Mains electrics
– Air conditioning in the main units
– Council tax (IBI) currently 450 Euros p.a.
– Unique location, mid way between Nerja and Frigiliana
 Click on the photographs below to view full images