Print Details
AX748 – Cortijo Las Rosas, quality country house, Riogordo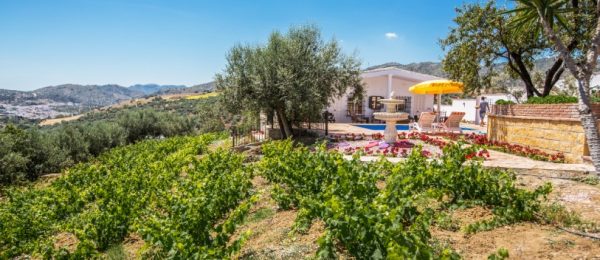 395,000€
Address:

not specified

Zip / Town:

Riogordo

Province:

Malaga
Ref. No.:

AX748

Bedrooms:

3

Land or garden:

10,880m2
Description
3 bedrooms – 3 bathrooms – pool – 10,000m2 plot – beautiful views – easy access to the village – top quality throughout
An exceptional country property with fabulous views of the mountains and the 'white Andalucian villages' of Riogordo, Colmenar and Comares. 
Situated in the municipality of Riogordo this unique property consists of 10,880 m2 of land, a house of 180 m2 and a swimming pool.
THE LAND/ PLOT
Most of the land is planted with 160 mature income producing olive trees, some over 100 years old and producing an average yearly crop of around 5,000 Kgs of olives, which translates into about 1200 litres of pure top quality virgin olive oil. Riogordo and surrounding areas have won top prizes as the country's best of olive oil.
This plot also has around 300 Syrah grapevines, planted in 2016 and already producing delicious grapes.The plants will come to full maturity and production in 2020, with a projected yield of about 2000 kilos of grapes per year. (Google 'Viveros Villanueva'and see their great promotional video.)
To compliment the wine growing experience and investment a superb wine cellar 'bodega' has been created. The 'bodega' can stock up to 1500 bottles of wine. In the centre of the 'bodega' is a round table around which to huddle during those precious wine sampling moments. Always at an ideal temperature it is the perfect place to toast to your health and long life… exquisite accompanied with some Jamon Serrano and well cured Manchego cheese on freshly oven baked bread.  As the wine gets better with age, the only matter left to decide is: what name should appear on the wine bottles!
There is also a dozen or so fully mature almond trees which give about 200 kilos of almonds every September.
The land also has plenty of space for growing fruit trees (some have already been planted) and vegetables, with good quality growing soil.
THE HOUSE
The house, including its 80 m2 of verandas, is 180 m2. It has 3 bedrooms, 2 en-suite bathrooms and a guest bathroom with shower. Two of the bedrooms have a separate door leading out onto the terrace pool area, which allows you to directly access these areas without having to go through the house.
It has a combined living and dining room area with exquisite log burner with stone decorated surround wall feature. The separate kitchen is fitted with quality oak cabinet doors. The kitchen is complete with ceramic hob and electric oven, dishwasher, microwave and exterior extractor fan.
There are high, cathedral ceilings in the entire house creating an airy uplifting feeling of height and space.
The house was built in 1995 and has been totally refurbished. It has new electrics and plumbing. New floor. New double glazed windows and patio door. Top of the range heat and cold General A/C units in each bedroom and a large unit for the living room and dining room. To save on energy costs and the life of the A/C each room is mounted with Room Climate Control unit which is a movement sensor which turns off the A/C unit when there is no movement in the room and kicks back on automatically whenever you re-enter the room. There are also 3 speed ceiling fans with light in every room.
The house has mains electricity and metered water from the municipality of Riogordo.  The water pressure is exceptionally high and there has never been a water shortage nor water restrictions.
VERANDAS
A very special and remarkable feature of the house is the 3 verandas totalling over 80 m2. The house was designed to maximize the enjoyment of outdoor living, which is possible all year round in southern Spain… even during the winter months.
The east side veranda offers great views of the La Maroma mountain,  with magnificent sunrises from the East.  To the North are views of the 3 dramatic and jagged peaks of Gomer, Fraile and Doña Ana, which appear as sentinels of the much larger and imposing Sierra de Enmedio.
The north side terrace offers the equally spectacular views of the Sierra del Jobo and the Sierra del Rey mountain ranges. The pool, which can be accessed from two of the bedrooms, is on this terrace. It is a salt water pool, equipped with a top quality Zodiac salination unit, which makes natural chlorine out of salt. This relatively new pool cleansing system has revolutionized how pool water is kept clean and pure. It is highly recommended by health experts and proven to be extremely beneficial to the skin and reduces the risk of picking up infections.
On the west side terrace, there is a laundry area complete with a washing machine and scrub sink next to it, and plenty of storage shelves. There is a long table which is 2.5 meters and 1 meter wide – it seats 12 for those really big fiestas. There is also the one-legged pink granite top table surrounded by benches on 3 sides: seats 8-10 people. From there you see the 3 'white villages' of Riogordo, Comares and Colmenar. It's a great place to take your evening 'nightcap' while watching the incredibly beautiful and spectacular sunsets so typical to Andalusia.
The walled/fenced area around the house – circa 1000 m2 – is accessed from the road through an automatic horizontal sliding door.  A large parking area also gives access to the huge, 40m2 garage.  The garage doubles as a workshop, with a 7 m long workbench with 8 electric plugs to make sure that you do not have to use extension cords and that your tools are always plugged in and ready for use at any given time. There is also plenty of storage space and shelves.
BBQ AREAS – AS IT IS DONE IN ARGENTINA. THE 'PARRILLA'
Close to the pool there is a cooking area complete with sink and a 4 ring gas hob and oven. The countertop is made of 40 x 40 cm terracotta tiles and is an impressive 4 meters long. Also featured is a state of the art Argentinian 'parrilla' (grill), built precisely as the true Argentinian grill should be!  It can grill up to 40 thick sirloins all in one go so that everyone gets to eat and toast the chef at the same time.
Next to the 'parrilla' is a solid, massive granite top slab, 2 m long by 76 cm wide used to prepare the food – dough for the bread and pizzas, etc – that goes into the oven. The oven has 25 cm walls and can withstand heat up to 400 degrees.
Leaving the pool BBQ area and passing the 3 tier white fountain, an elevated dining area has been created around a huge olive tree more than 100 years old with a branch girth of about 25 meters round. Three sections of 80 cm wide benches have been made around the olive tree. The ample width allows room for an afternoon siesta, or to sleep under the stars during those hot Spanish summer nights. Six people can comfortably stretch out around this great olive tree – which yields about 150 kilos of olives every year.
Also here is a wrought iron table and 8 chairs. There is also a 3.20 long counter top, complete with sink and another grill area. This grill area is within arms length of the well-stocked herb and spice patch of mint, thyme, rosemary, savoury, etc.
Adjacent to this majestic tree is a 100 m2 garden area to grow vegetables, plants and flowers. The top soil here is rich in organic fibres and nutrients and makes for a great base for a thriving kitchen garden.
Except for this open garden area almost all the flowers along the walk ways are protected by plastic to keep the weeds to a minimum. The crushed stone to hold down the plastic is the pinkish 'Piedra Colorido' rock found only in the Murcia area. Everything has been prepared and planted so that you could be away from the property for long stretches at a time and on your return your flowers and plants will have grown in size and look as great as ever. All that you will be required to do is some pruning to suit your own taste.
NOTE: If caring for the garden and pool and all the trees seems over whelming to you, there is plenty of local expert help nearby to keep it all working like clock work…. all at very good value for money. Jose, the handyman, says he is only too glad to stay on if asked.
ALTERNATIVE ENERGY.
In order not to spoil the exterior aesthetics of the house, a POWER STATION has been built 50 meters from the house. This cement structure houses the control units of the electricity producing windmill and solar panels. The electric windmill generating unit is the renowned Marlec Rutland FM 180. Well known by boat enthusiasts this incredibly efficient wind electricity producing workhorse has been supplying electricity to remote rural areas around the world for since the 1960s. It works marvels on the Riogordo property.
On the roof of the Power Station are 2 solar panels which also generate electricity. The energy of both the windmill and solar panels pass through the Eco Solar 'Solar Power Inverter' which transforms electricity from 24 volts to 230 volts, which is then stored in batteries to supply electricity to mains fuse box of the house.  At optimum capacity the combined wind and solar system can produce about 3000 watts per hour. Also on the roof of the Power Station is the solar hot water system with a 300 litre tank capacity.
The south side wall of the house has a Norwegian SolarVenti Hot Air System unit driving dry, hot air into the house. This highly efficient hot air energy source produces up to an amazing 2200 watts of heat effect per hour of sunshine. In addition to the heat produced it draws in a massive amount of fresh air and absorbs and eliminates humidity. It is especially useful during the winter months. It really helps to keeps your heating bill at a minimum.
A stunning, quality and stylish country house just a few minutes drive from the village.
Top features of Cortijo Las Rosas:
– 10,000m2 plot, productive
– 180m2 house with verandas
– 8 x 4m pool and an underground bodega
– Mains electric and water, plus solar/wind generated electricity and solar technology
– Air conditioning throughout
– Beautiful views
– Various outside kitchen areas
– Council tax/IBI: 522€ p.a.