Print Details
AX740 – Casa Paula, village house to restore, Benamargosa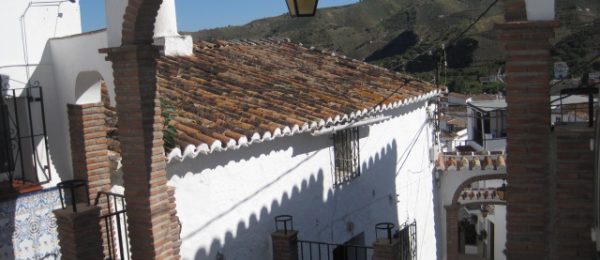 42,000€
Address:

not specified

Zip / Town:

Benamargosa

Province:

Malaga
Ref. No.:

AX740

Bedrooms:

not specified

Land or garden:

not specified
Description
3/4 bedrooms – 1 bathroom – inner patio – terrace – wonderful views – great potential
A pretty village house on a picturesque street, requiring complete renovation, with outdoor walled patio and roof terrace
This house, approximately 100m2, is located in a quiet street with nearby parking areas and could be made, once renovated into a particularly homely and attractive house for permanent or holiday use.
A small, private entrance area, raised above street level, leads to the front door, which leads directly into the main sitting room (4.5 x 3m) with arched under stairs alcove on the left.  Off the living room, to the rear of the room is a doorway into the downstairs bedroom (3.5 x 3m – could be made part of the living room or used as a dining room instead).  A short corridor, also off the rear of the living room, leads into the kitchen, passing the doorway to the bathroom on our left.  There is a large storage area to the right of the corridor.  The kitchen (around 3.5 x 2.5m) has a door to the left leading out onto a small walled patio area which is around 3.5 x 2m, with steps to an upper area of around the same size.  It could be possible to dig out all of this area to double the size of the patio, and perhaps add a large balcony or small terrace above, to create some shade in the patio.
Back in the living room, steps lead to the first floor.  At the top of the steps, turning left, one enters a large bedroom (5 x 3m), with a door to one side leading into a second room (4 x 2.5m) which currently has a temporary roof.  This room leads onto the terrace, (3.5 x 2.5m) which has beautiful views all around of the village and the countryside beyond.  Back at the stairs, turning right, one enters another bedroom (3 x 2.5m) with a door leading out onto the upper patio area mentioned earlier, which could be a second terrace or balcony.
There are many ways of restoring and altering this interesting house, and it is also possible to build another floor above with roof terrace above that.