Print Details
CO150 – Cortijo Los Frailes, Rute, Cordoba province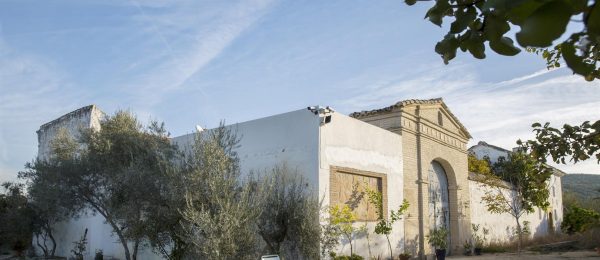 155,000€
Address:

not specified

Zip / Town:

Encinas Reales, Rute

Province:

Cordoba
Ref. No.:

CO150

Bedrooms:

4

Land or garden:

750m2
Description
Main house 2 bedrooms – 1 bathroom ; second house for restoration 2 bedrooms ; 300m2 walled courtyard patio garden
A 250-year-old cortijo consisting of two buildings, one of which is fully restored, a pretty courtyard patio garden, car parking and easy access from the road.
This fascinating historic cortijo, once belonging to the famous San Juan de Dios order of monks and most likely used as an olive store and mill, is now for sale at an affordable price and offers the possibility of further development in the second, separate building for rental or tourism, or just extra accommodation.
Located conveniently just off the A344 road between Encinas Reales and Rute, and not far from Lake Iznajar, a short track leads to the fully fenced area around the cortijo, shared with a neighbour.  The complex consists of three buildings around a central walled courtyard.  One of the buildings, which is just a store and rarely used, belongs to the neighbour and their access is totally independent from the courtyard, which does not belong to them, and there are no windows overlooking the courtyard from the building.  The other two buildings, both accessed from within the courtyard and also from outside, belong to the property for sale.
From the car park area and small garden area to one side, backing onto neighbouring olive groves, access to the courtyard is via a magnificent, fully restored brick entrance, still with the huge, original wooden gates.  Once in the patio, the whole inner area could be developed into stunning gardens, with plenty of space for fruit trees and palm trees, lawn and paved terrace areas.  An above ground pool would also work well in this lovely, totally private area. The courtyard is approximately 30m x 10m.
To one end are steps leading up to a roof terrace, which is above the renovated main house, covering an area of around 6.5 x 3.5m and with beautiful views over the rows of neat olive trees stretching into the distance and so typical of this area.  Beyond the terrace is another terrace area of about the same size taken up with solar panels for electricity.
The front door to the main house leads directly into the kitchen/dining room (6 x 3.5m) with fully fitted kitchen and units.  To the left is a door into a utility and maintenance room of about the same size, used to store the water deposits (6000L), batteries for the electricity and other equipment.
Beyond the kitchen, to the far right, 3 steps lead down to the inner hallway, used as an office space (3 x 3m) and from here stairs lead up to the first floor, to the right.  Straight ahead leads into one of two living areas.  This first room is used as a dining room and music room and is an excellent size (9 x 3.5m) and has double doors leading out to a side patio, outside the courtyard area.  Also from this room, double doors lead into the main living room, with woodburner fireplace for cosy Winter afternoons and evenings, and this room too is a good size (5.5 x 4m) with side opening leading back to the inner hall and double doors leading back out to the courtyard garden.
Taking the stairs, we reach an open landing (5 x 4m).  Off the landing are the two bedrooms (5 x 3m and 3.5 x 3m) and the bathroom (3.5 x 2.5m) with very large walk-in shower.  The upstairs area has concrete floors and anyone purchasing this property might wish to tile them, or install modern parquet flooring, which would work well in this historic building, as it is one of those properties that, despite its age, would combine its original features very well with more modern ones.
The house has some impressive features: high, beamed ceilings and arched areas in the living room and music room downstairs, and the very typical curved section ceilings of the old houses often found in inland Andalusian cortijos (see kitchen ceiling photos), arched openings for windows and doors, walls that are over 1m thick and original windows.  The whole of the upstairs has a domed ceiling and original windows.
Across the courtyard, the second house needs a lot of work and possibly some rebuilding to restore it to its former glory, as it is now in a deteriorated state.  But it too has immensely thick walls, original floor tiles on the ground floor and stairs, and original windows and once restored, would make excellent additional accommodation.  Downstairs, the excellent wooden door leads into a living room with fireplace (4 x 3.5m) with a door to a second reception room which could be the kitchen.  The stairs lead up to two rooms, which could be two bedrooms, one with an ensuite bathroom or a large bedroom and large bathroom.
This is an interesting property for anyone interested in historic buildings and has potential for creating a successful rental unit in the second building.
Main features of Cortijo de los Frailes:
– Main house with 2 bedrooms (107m2 on 2 floors = 215m2)
– Second house need restoration (60m2 on 2 floors = 120m2)
– 300m2 courtyard patio garden
– Total land around 750m2
– Only 4Kms from the village of Encinas Reales (banks, chemist, bars, shops, etc)
– 8Kms from the country town of Rute and just a few more Kms to beautiful Lake Iznajar
– Easy access from Malaga (1 hour)
Please click on the photos below to view full images: