Print Details
AX607 – Casita de la Huerta – cottage to restore with avocado orchard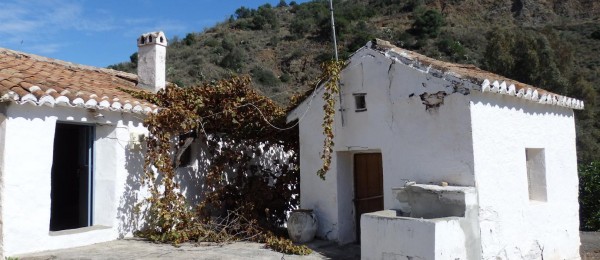 75,000€
Address:

Area of Cuevas de Comares

Zip / Town:

Comares

Province:

Malaga
Ref. No.:

AX607

Bedrooms:

2

Land or garden:

1160m2
Description
4 rooms to restore – patio – separate fruit tree orchard of 1155m2 flat land – shed
A delightful semi detached, 115 year old rustic cottage to restore, to make a 2 bedroom cottage with plenty of land with productive fruit trees including mature avocados, oranges and many other fruit types.
A very rustic style 115 year old semi detached cottage with a second small building next to it which could be joined to the main body of the house to make enough space to create a 2 bedroom home.
The cottage is close to a very pretty little hamlet and within 10 minutes of Benamargosa village.  There is a house next door, but a wall could be built for privacy on the courtyard patio that is to the front of the house.  As the second building is perpendicular to the first, by joining the two together, along with a privacy wall on the other side, this would make the patio into a very pretty little walled courtyard.  The patio area is around 20m2, excluding the 6m2 section between the two buildings which could be filled in with an extension (subject to planning consent).
The front door leads into the first room, with a beautiful old fashioned fireplace and surround that is typical of this area, and original floor tiles.  This room is 4 x 3.25m.  A doorway under the fire surround leads into room 2, which is 3 x 2.5m, and another door from the first room leads into the third room, 5 x 3m.  These rooms have original beam and cane ceilings.
The little separate building consists of one room, used as an animal shed in the past, and this room is around 2.5 x 2.5m.
In front of the house is an open, communal area for several houses that are located here.  Walking across to the other side, is the plot of irrigated land that belongs to the cottage.  This consists of 1,155m2 of totally flat land in a long, thin strip, with irrigation tubing covering the whole plot on an automatic feed system.  The water comes from a communal well which provides a plentiful, and free supply to the irrigation group – the only cost is the cost of running the well pump (each owner has their own pump).
At the top end is an area that is raised above the level of the rest of the plot, and is planted with many different productive fruit trees, including custard apple, orange, lemon, fig, pomegranate, caqui, quince, plum and also grapevines. Here, there is a brick built shed of around 3 x 3m with a log store built onto one side of 3 x 1.5m, ideal for keeping tools, animals, etc.  From here, the rest of the plot stretches along the flat land and ends by the river bed, and is planted with around 20 mature, productive avocado trees, producing on average around 3 to 4,000 Kgs of avocados per annum.
This house requires total renovation, but it is very probable that planning permission would not be difficult to obtain to make this into a very lovely 2 bedroom cottage.  And with the land it has with it, it would be ideal for anyone wishing to grow crops and produce fruit, and live a simpler life!
Main features of Casita de la Huerta:
– 55m2 residential house to renovate plus extra one room building to join to main cottage
– Council tax (IBI) 65 Euros per annum
– Mains water
– 1155m2 irrigated plot on automatic system with well water
– Mature productive fruit trees and avocados
– Easy access