Print Details
AX480 – El Molino, historic village house with courtyard, Comares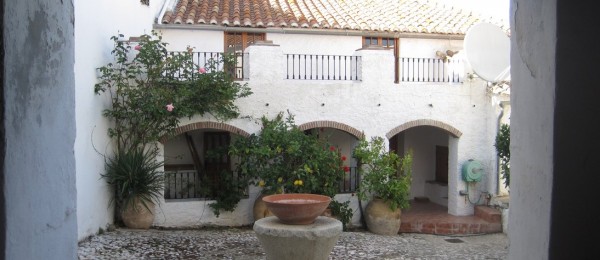 325,000€
Address:

not specified

Zip / Town:

Comares

Province:

Malaga
Ref. No.:

AX480

Bedrooms:

5

Land or garden:

228m2
Description
5 bedrooms – 4 bathrooms – including a gatehouse – over 200m2 of outside space with inner courtyard and rear patio garden
A stunning and immaculately kept, quality restored historic village house with courtyard, bursting with character and offering plenty of space
A highly unusual property with a true 'wow factor' from the moment one enters the property!   This beautiful village house, the gatehouse, courtyard, main house and rear patio garden, in the heart of this picturesque village, offers quality living in breathtaking surroundings, both inside and out.
A large wooden door set in the wall  leads into a covered entrance designed for horses and carts to enter the inner courtyard.  The entrance gate has a beamed roof and to the left is the door into the gatehouse.  The gatehouse consists of a small hallway (2.5 x 1.25m) with a door to a bathroom (2 x 1.5m) and stairs that lead up to a main room, currently set out as a bedroom.  This lovely room (5 x 3.5m) has a high, sloping beamed ceiling and a pretty 'Juliet' balcony through original wooden double doors, overlooking the inner courtyard.
The cobbled courtyard is around 9 x 6.5m, plus a covered terrace area at the far end of around 5 x 2m.  There are also a couple of steps to one side up to a little upper area with pretty tiled plaques on the wall depicting typical scenes from Comares village.
At the far end, under the covered terrace,  is a door to a useful utility and laundry room (3 x 2m) and at the other end is a store room (4 x 2m).  There are large double doors from here leading into the main house.
The first room of the main house, immediately off the inner courtyard, is a huge dining room, open plan to a generous, fully fitted kitchen.  The kitchen is around 5 x 3.5m and is separated from the rest of the room by a long breakfast bar.  The dining room area is approximately 6 x 3.25m  with exposed rock features at one side of the room and a large freestanding woodburner and surrounding details include a built-in log store area.  A delightful room to use all year round.
At the far end of the dining room is the wide staircase, and to the rear, a door to bedroom 1.  Bedroom 1 is a double room with beautiful beamed ceiling and wooden window to the rear looking out over the rear patio garden.  This room is 5 x 2.25m and to the left is a door through to an ensuite shower room of 3 x 1.25m, which includes a shower unit located up 3 steps.  This room also has exposed rock features.
Bedroom 2, next door, is of a similar size, with double wooden doors to the far end leading out onto the rear patio garden.  This room also has an ensuite shower room (3 x 1.5m) and a door from the shower room leads into a useful storeroom (1.5 x 1.5m)
There is also a store cupboard under the stairs.
The staircase leads up to a quite breathtaking upper living room.  This huge room is 8 x 7m and features striking, original beams on sloping ceilings, sloping in different directions, built-in lights and a pretty 'Juliet' style balcony overlooking the street on one side, and two double wooden doors on the other leading onto a 2 x 7.5m open terrace which overlooks the courtyard.  The terrace offers pretty views across the village and mountains beyond, as do most of the windows and balconies in this delightful property.  This room has a central brick-built fireplace with a freestanding woodburner within it and log store areas.
From this large, open plan living room is a hallway area, beyond the staircase, leading to a bedroom through original double wooden doors.  This is another double room (4 x 3m) with a window at the far end overlooking the rear patio garden.  To the left is an ensuite bathroom (2.5 x 2.5m) with beautiful sloping ceiling and painted beams.  From the ensuite bathroom is an archway leading into the fifth bedroom in this stunning property, a single bedroom ideal for children, again with sloping ceilings and beams (2.25 x 2m).
Returning to the ground floor, the second bedroom leads through double doors into the rear patio garden.  This is mainly tiled and has an area beyond with soil, planted with various fruit trees, flowers and shrubs.
There is ample space to add a small swimming pool if required in the outside areas of this beautiful property and its potential as a small b&b or quality and spacious family home is considerable.